Security wear overalls have to pay daily
Recently, Mr. Li from Luqiao entered the newspaper's rights defense hotline at81812315 and described a depressing thing. This matter is related to his overalls.

Mr. Li said that last month, he made security and said that he had a monthly salary of 2,500 yuan, but in fact he only got 2,270 yuan. As soon as one inquired, it was known that in addition to paying 200 yuan in living expenses, the monthly salary had to be paid to the company's clothing costs of 1 yuan per day.

After a month's security, I learned that I need to pay for my clothing every month.

Mr. Li is 62 years old this year. In mid-December of last year, after introducing the villager, he was a security guard at Luqiao Century Mansion. "At that time we did not sign a contract. They only took a photocopy of my ID card and said it. Mr. Li was told that the monthly salary is 2,500 yuan, of which 200 yuan should be deducted.

Mr. Li said that his property company is Xiangyu Property Management Co., Ltd. When he first came to work, the other party stated that he would pay wages from the 15th to the 20th of each month.

"On January 18, when I hadn't received my salary, I asked about it." Mr. Li said that he asked the director of the Century Building Property Office, who was named Liang. Director Liang told him that the salary has not yet been issued. " But he said my salary is 2270 yuan."

The deduction of 200 yuan for the 2,500 yuan of wages, this should not be 2,300 yuan? Why is it less $30? After Mr. Li was asked, he learned that he had to pay 1 yuan for clothing every day.

"My current overalls have no trousers, the hats are dirty, and I heard that I have to return my clothes after I resigned. Since that is the case, why do I have to pay for my clothing?" Mr. Li said, although 30 yuan is a small amount. , but he hopes the company can explain it clearly.

Property Department: This is a company policy. The specific reason is to ask the property company.

Does Mr. Li reflect the facts? Why does Xiangyu Property Management Co., Ltd. charge clothing fees? Subsequently, the reporter contacted the property of the Luqiao Century Mansion. A staff member who claimed to be surnamed Liang told the reporter that the security was indeed managed by the property company. The company did charge a clothing fee of 1 yuan per day.

"On a dollar a day, the company does have to collect it." But when a reporter asked why the company had to collect clothing costs, the staff member said he had a hurry and hurriedly hung up.

After 20 minutes or so, the reporter called the property office again, which was also the phone that the staff member answered. Mr. Liang said that the collection of clothing costs is the company's regulations, he is not clear, and suggested that the reporter asked the property company located in Jiaojiang Golden Shore Apartment.

Xiangyu Property Company staff: The company did not collect clothing costs

Subsequently, the reporter contacted a staff member surnamed Xu of Xiangyu Property Management Co., Ltd. He claimed to be responsible for complaints. Mr. Xu did not deny this requirement for collecting clothing fees.

"The company seems to have to collect clothing fees, but it only takes one year and it will not be collected afterwards." However, Mr. Xu said that he was not in the company since he first came to the company. It is not clear. "I'll ask first and give you a reply."

Before long, Mr. Xu called the reporter and said: "The company does not have this requirement."

Mr. Xu said that the property of Luqiao Century Mansion really belonged to their company. The salary of all employees of the company was issued by the company in a unified manner and was issued on the 20th to the 22nd of each month. "But we didn't charge any clothing costs," said Xu.

Mr. Li calls again: The property company has said that it will no longer deduct clothing costs

Yesterday afternoon, Mr. Li called the reporter again and said that the matter has been satisfactorily resolved.

"Today, our director gave me the salary and didn't buckle the money." Mr. Li said that this wage directly scored his salary card, and he also communicated with Director Liang. "The director told us well, The clothes were bought by us and the company no longer deducted this money."

Since this is the case, why did Mr. Leung say that the company had to deduct the cost of clothing? In this regard, Mr. Li said he was not clear, "This may be a misunderstanding."

Lawyer

Employers are obliged to provide free work clothes

Lawyer Lu Jun

This event, the misunderstanding between the employer and the laborer, will eventually be resolved, but it is necessary to talk about employers collecting clothing costs, deposits and other issues.

According to the "Labor Law" and the "Labor Contract Law," labor conditions are an integral part of a labor contract, and occupational clothing such as security clothing is used only for work. Therefore, if the clothing is a product that constitutes a necessary labor condition If information is available, employers are obliged to provide them.

Laborers in the meaning of the "Labor Law" and the "Labor Contract Law" refer to those who obtain legitimate income through their own labor and skills. Therefore, under normal circumstances, laborers must pay for the use of their own skills and no responsibility. Provide labor information obligations.

According to the voluntary principle of the "labor contract," if the employing unit deducts the clothing fee if it has not informed the laborer and clearly signed the "labor contract," it is also a breach of contract.

Therefore, if the employer collects clothing costs (necessary production materials), deposits, etc., it is against the relevant regulations. Although the law does not explicitly stipulate the prohibition of the collection of clothing fees, if the clothing is used as a necessary working condition, the collection of clothing costs is essentially a disguised collection of deposits, and the labor departments in many localities are also charged in excess of the security deposits. In addition, Article 9 of the Labor Contract Law also clearly stipulates that employers may not detain employees' resident identity cards and other documents when recruiting laborers, and may not require laborers to provide guarantees or collect property from workers in other names.
Copyright Statement: This article is reproduced from online media and represents only the author's opinion. It has nothing to do with this site. If news articles and comments infringe your legal rights, please call us and we will handle it in a timely manner.



Round Welded Steel Pipe is used for structural, industrial, automobiles and furniture industries. The material of Welded Steel Pipe is SPCC/ SPCE/ SPCD/ Q195/ Q235/ Q345/ DX51D+Z ST12/ ST13/ ST14/ DC01/ DC03/ 10# .Place of Origin is Shandong, China. The brand name is Vantage. The technique of welded Steel Pipe is ERW. The surface treatment is oiled or galvanized. Size is 9.5 mm-95 mm. Length is 5.8 m - 12 m. Thickness is 0.6 mm- 3.5 mm. Application is structural, industrial, automobiles and furniture industries.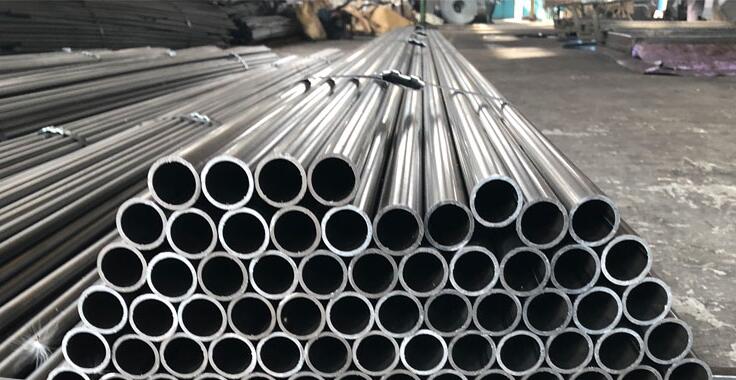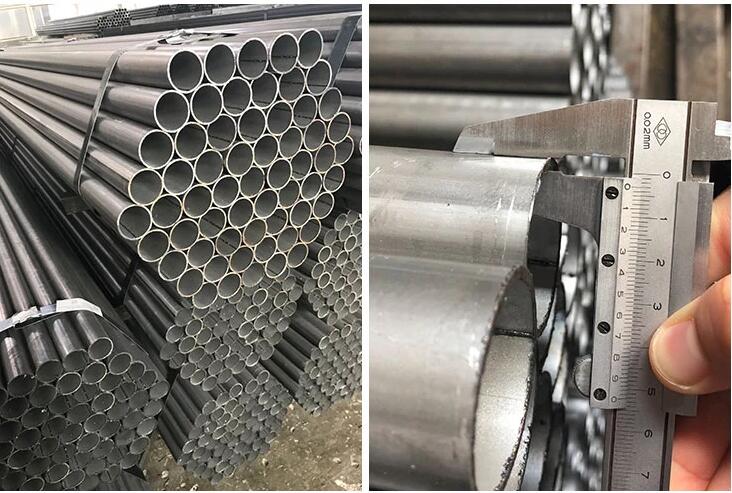 Product Specification:
| | | | |
| --- | --- | --- | --- |
| Diameter(mm) | Thickness(mm) | Diameter(mm) | Thickness(mm) |
| 9.5 | 0.6-1.0 | 41.3 | 1.0-3.0 |
| 10 | 0.6-1.0 | 42 | 1.0-3.0 |
| 12 | 0.6-1.0 | 42.7 | 1.0-3.0 |
| 13(12.7) | 0.6-1.2 | 43 | 1.0-3.0 |
| 14 | 0.6-1.2 | 44 | 1.0-3.0 |
| 15.75 | 0.6-2.0 | 45 | 1.0-3.0 |
| 15.9(16) | 0.6-2.0 | 47.8(48) | 1.0-3.0 |
| 18 | 0.6-2.0 | 50.8(50) | 1.0-3.0 |
| 19.1(19) | 0.6-2.5 | 54(55) | 1.0-3.2 |
| 20 | 0.6-2.5 | 57(56) | 1.2-3.2 |
| 22.2(22) | 0.6-2.5 | 60 | 1.2-3.5 |
| 23.1 | 0.6-2.5 | 60.3 | 1.2-3.5 |
| 25.4(25) | 0.6-2.5 | 63 | 1.2-3.5 |
| 28(28.6) | 1.0-2.5 | 63.5(65) | 1.2-3.5 |
| 30 | 1.0-2.5 | 68 | 1.2-3.5 |
| 31.8(32) | 1.0-2.5 | 70 | 1.2-3.5 |
| 33.45 | 1.0-2.5 | 76.2 | 1.2-3.5 |
| 34 | 1.0-2.8 | 80 | 1.5-3.5 |
| 35 | 1.0-3.0 | 83 | 1.5-3.5 |
| 38.1 | 1.0-3.0 | 89 | 1.5-3.5 |
| 40 | 1.0-3.0 | 95 | 1.5-3.5 |
If you have any questions, please contact with us directly.

Our company is solemnly committed to the majority of customers: reasonable price, short production cycle, considerate service. We look forward to cooperating with you.

Welded Steel Pipe

Welded Steel Pipe,Round Welded Steel Pipe,Welded Steel Tube,Spiral Welded Steel Pipe

Shandong Vantage International Trade Co., Ltd. , https://www.steelplate.be