Traction molecular pump working principle and structure
Traction molecular pump mainly refers to the gas molecules collide with high-speed rotor to obtain kinetic energy, with high-speed movement of the rigid body surface to carry gas molecules and make it move in a certain direction is called the phenomenon of molecular traction . People often refer to the molecular pump invented by Gade as a traction molecular pump. Understanding how it works is significant for using and researching such products. Traction molecular pump Next mainly describes the working principle of traction molecular pump: traction pump cavity rotor molecular pump has a rotor, surrounded by a rotor with a groove and separated by a baffle. Each groove is equivalent to a single-stage molecular pump, the inlet of the next stage is connected to the outlet of the previous stage. There is a 0.01mm gap between the rotor and the pump housing. Gas molecules from the entrance into the pump chamber, carried by the rotor to the outlet side, the exhaust pipe by the forepump pumping. The advantages of traction molecular pump start-up time is short, in the molecular flow state has a high compression ratio, can remove all kinds of gas and steam, especially for pumping heavier gases. Traction molecular pump inlet pressure of 1Pa, the special structure can exceed 1Pa, and can exhaust to the atmosphere, such a pump is not suitable for repeated rapid exhaust, only suitable for continuous exhaust after roughing. Due to the low exhaust volume, easy to get stuck, so traction molecular pump less. To sum up, the working principle of the molecular pump is not complicated. The user can select the products he needs according to his working principle. The producer can improve the product's competitiveness by improving the working principle. In general, with the continuous improvement of China's industrial level, how to improve the competitiveness of products and the market share is very necessary. Traction molecular pump after years of continuous development, has laid a very solid foundation, I believe that with the market demand, traction molecular pump tomorrow will be more beautiful. Related Articles: Molecular vacuum pump working principle and structure diagram Roots vacuum pump working principle and structure

Fasteners Washers are used for a wide field . The raw material is carbon & stainless steel . We mainly produce two kinds of washers . They are general washers and Doggie Tooth Washers . The doggie tooth washers are a kind of connected parts . They are usually used on the buildings,wood ,furniture etc.

Free Sample can be provided for your test and small order is welcome.

If you have your own design or drawing ,we can have the abiity to make it according to your special requestment.




Hebei Xinyu Metal Products Co.,Ltd is a ISO9001 cerificated enterprise,which specialize in
manufacturing and exporting Furniture Nuts .Product including
Wing Nuts , Hopper Feed T Nuts , Propeller Nuts , Weld Nuts , Pallet Nuts , Locking Nuts , Rivet Nuts ,Doggie Tooth Washers, Steel Stamped Parts , Hopper Feed Rivet T Nuts , Metal Stamped Parts ,
T-Nuts For Cliff-Climbing,Furniture Nuts, Tee Nut For Rock Climbing holding, Insert Tee Nut ,Middle steel Zinc Plated Stamping Wing Nut, Auto Flat Plane Weld Nuts ,
Automobile Spot Welding Nut,Customer-Made Metal Stamping Parts, Cold Heading Tee Nuts ,Stainless Steel Butterfly Nuts, Furniture Eccentric Wheel , Cam Lock Furniture Nut .
Our key strength are custom made special fasteners according to drawing or sample .We have longer and stable business relationship with well-known companies from American, Poland,Germany,French and so on.In the future ,xinyu will continue focusing on innovation special designed products,becoming your most trusted partner.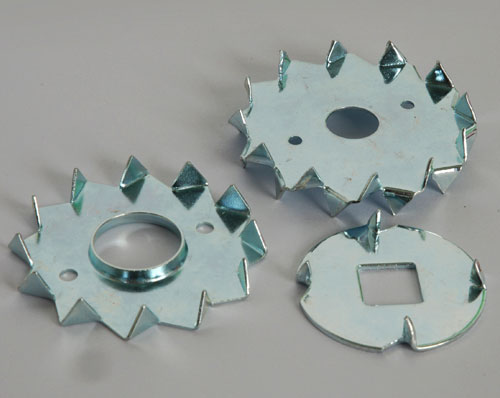 Stamping Metal Washer

Stamping Metal Washer,Fasteners Washers,Carbon Steel Washers,Stainless Steel Washers

Hebei Xinyu Metal Products Co.,Ltd , https://www.t-nuts.net