Waterproof paint market development trend analysis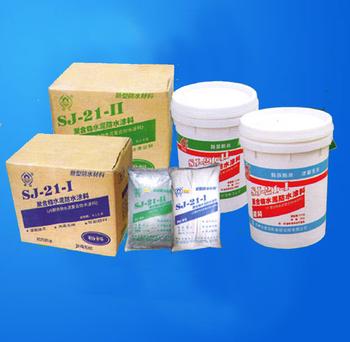 China's new waterproof material industry has gone through more than 20 years of development and has made gratifying achievements. Under the new economic situation, how should China's waterproof material industry go? What new product should be developed for waterproof materials? According to the development trend of waterproof materials at home and abroad, the author combines his own years of work experience to make suggestions for the national waterproof industry. My colleagues' reference.

Synthetic polymer waterproofing membrane: consolidate the application of polyvinyl chloride and EPDM waterproofing membrane, promote the formation of a polyethylene polypropylene (polypropylene) waterproof membrane and polymer cement bonding system, and accelerate the research and development of wet-laid self-adhesive Synthetic polymer waterproofing membranes, limiting the use of chlorinated polyethylene waterproofing membranes, eliminating reclaimed rubber waterproofing membranes.

Waterproof coating: Consolidate the application of polyurethane waterproof coating, polymer cement waterproof coating, cement-based waterproof coating, promote cement-based penetrating crystalline waterproof material and silicone waterproof coating, develop and apply sprayed polyurea polyurethane waterproof coating, research and application of high solid content aqueous asphalt Base waterproof coating, promotion and application of road and bridge waterproof coating and

Other

special purpose waterproof coating. It is forbidden to use contaminated coal tar waterproof coatings.

Polymer modified bitumen membrane: Consolidation of SBS, APP modified bitumen membrane and self-adhesive rubber bitumen membrane, development of wet-laid self-adhesive modified bitumen membrane, promotion of roof greening practices and applications The root-resisting coiled materials are actively applied to the glass-fiber tire asphalt shingles, and the use of composite-typhoon-bitumen-based waterproofing membranes and paper-felt linoleum is prohibited, and the use of coal tar sand-surface waterproofing membranes is prohibited.

Sealing material: consolidate the application of acrylate sealing material (mid-range), strongly promote the use of poly*, silicone, polyurethane and other high-grade sealing materials, and actively study the application of sealing material for the special primer, in order to improve the sealing material adhesion and water resistance, durability Sex. It is forbidden to use plastic grease, PVC cement and other sealing materials.

Water Repellent: Consolidate the application of general-purpose water repellent, promote M1500 water-based penetrating water repellent and DPS, and promote the use of silicone water repellent and fatty acid water repellent. Restrict the use of water repellents with high chloride ion content and prohibit the use of powdered water repellents with excessive alkali content.

Waterproof mortar: actively apply polymer cement waterproof mortar, promote polypropylene fiber (PP) and nylon fiber and wood fiber anti-crack waterproof mortar, research and application of zeolite type siliceous waterproofing agent. Vigorously promote the use of commercial mortar (waterproofing, heat preservation, antisepsis, cementation, filling and self-distribution of special mortar).

Grouting material: cement-based grouting material for foundation reinforcement, cement-based epoxy grouting material for structural reinforcement, especially low-viscosity, moisture-cured epoxy grouting material, super-early self-leveling grouting cement and polyurethane, acrylate for waterproof plugging Grouting material. A composite grouting process is recommended for different engineering conditions. It is forbidden to use toxic and contaminated grouting materials such as propidium chloride.

Waterproof and heat insulation material: consolidate the application of extruded, molded polystyrene board and mortar external insulation system, and actively promote the use of spray polyurethane hard foam body waterproof insulation material, the appropriate development of the application of plastic powder polystyrene insulation mortar system. Limit the use of heat-absorbing materials such as expanded vermiculite and expanded perlite. Do not use loose material insulation.

Bentonite waterproof material: Active application of natural waterproof material - sodium bentonite waterproof material, specific varieties of bentonite water swelling seal, bentonite waterproof board and bentonite waterproof blanket and bentonite powder waterproof material.

Special waterproof material: choose to apply waterproof metal membrane, research and application of cultural relic protection and other special waterproof coating.

The percentage of energy consumption of Heating Furnace is 10% in the metallurgy field.Among them the energy consumption of he heating furnace for rolling is 75%-80%.Improving the heating efficient by energy-saving method is the essential way for lowing rolling cost and fulfilling sustainable development.
Furnace is a device used for heating. Reheating furnace is for steelmaking.

An industrial furnace or direct fired heater, is an equipment used to provide heat for a process or can serve as reactorwhich provides heats of reaction.
We design the furnace according to requirement of client and provide more reliable and efficient reheating furnace.












Heating Furnace

Heating Furnace, Industrial Heating Furnace, Heat Treating Furnace, Heating Furnaces, Industrial Heating Furnaces, Heat Treating Furnaces

Tang Shan Jin Zhi Science & Technology Co.,Ltd. , http://www.jzgasifier.com